The exact wording of my results are mentioned below:
"BB-8
You're BB-8! To start, you are beyond cute. You have a heart of gold, always wanting to do what's right, but that's not always easy. You're being pulled in every direction by different people who want different things from you. They're all depending on you, but we know it can be tough to juggle so many responsibilities at once! A normal person might give up, but you're always willing to help, so you'll stick in there until the end. It's a confusing world out there, but you can do it!"
If you're a Star Wars Fan (or literally have nothing else to do haha) check out the quiz ⬇
https://www.playbuzz.com/sweetyhigh/which-star-wars-the-force-awakens-character-are-you
Thank you for reading such a short and random Blog Post, I shall be back next week to commence Mental Health Monday. Until then, May The Force Be With You! ✌💕
‾‾‾‾‾‾‾‾‾‾‾‾‾‾‾‾‾‾‾‾‾
Check out my previous Blog to see how my first time at Comic-Con – My First Comic-Con – London May 2019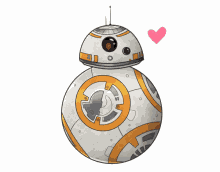 ‾‾‾‾‾‾‾‾‾‾‾‾‾‾‾‾‾‾‾‾‾
Thanks for stopping by.
Laura,
XOXO